Sleeping Pad
There are many types of sleeping pads available including self-inflating pads, closed cell foam pads, air mattresses and air beds.  These are important because they allow you to get a more comfortable nights rest.
More importantly, a good ground pad will add insulation between you and the ground (very important in winter camping).  the "R factor" is a measure of the insulation, higher numbers are better.
Plain vinyl or fabric covers can be slippery, and sometimes you've no choice but to pitch your tent on a hill.  Look for a flocked top or other feature that will prevent a nylon covered sleeping bag from sliding off the pad or mattress.
Prices mentioned are list prices for comparison, you can get better prices online and at Sierra Trading Post.
Therm-a-rest brand offers lifetime repair to their sleeping pads.  Its easy enough to repair your pad or air mattress; finding the leak is the most difficult part so this warantee may be worthwhile.
Closed Cell Foam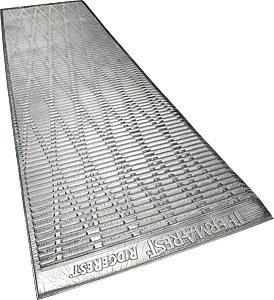 Closed cell foam pads offer a bit of comfort and don't leak air in the middle of the night.  Some pads have a bit more insulation than others, the Therm-a-Rest solar has an R value of 3.5 and has a list price starting at $40.  The SQLLite is a similar pad, but has an R value of 2.8.  It lists for $30, but can be found for less online.
These are best for younger, lighter campers because they can be abused, torn poked full of holes and retain their cushioning and insulation.  And they are inexpensive.  The temperature range can be extended with a space blanket as a groundcloth.
Self Inflating Pads
Open cell foam pad with airtight covering.
Pros:  More insulation than other mats, Thick pads available, and recommended for heavier people who will compress parts of the mat (e.g. if you're a side-sleeper, your shoulders and hips will compress the mat more than your legs and waist will.)
Cons: some mats are heavy and take up a lot of space when packed.  One hole means that the air is lost, but the internal foam still gives a little cushion and insulation.
Deluxe
These can be quite large and comfortable.  Available up to 4″ thick and with an R value of 11, these are suitable for 4 season camping.  However, they pack relatively large and are heavy.  This weight is not a problem in the winter, most of our winter trips are "car camping".  These items cost about $200 and some are long enough that they will not fit into a smaller tent.  They are very comfortable though and a good choice for adults.
Standard
Usually about 2″ thick, smaller, lighter and less expensive than the deluxe sleeping pads, these have R values of about 6.  These pads are good for more responsible scouts.
Air Mattresses

An air mattress can be very light, and is suitable for backpacking.  Less expensive air mattresses are easily damaged, can pop if too much weight is on them, and don't hold up well to horseplay.  More expensive mattresses are more durable, but are still relatively fragile.  When the air leaks out, you are left with no cushion and no insulation.  But air mattresses usually have an R value between 1.8 and 5.7.  Cost is generally between $50 and $200, naturally the more insulated mattresses are more expensive.
These mattresses are good for backpacking.
Air Beds
Similar to an air mattress, but larger, generally starting out in a twin mattress size that is 6″ thick. You do need a larger tent for these larger mattresses.
Like an air mattress these have no insulation value to speak of, and one small hole leave you with no cushioning.  Air beds also require a pump or an exceptional pair of lungs to inflate them.  Air beds are relatively light and pack down small, and they are inexpensive.  Coleman and Intex brands are available at Walmart.
Some air beds come with a case or cover.  This is a nice feature that helps prevent wear and tear when transporting it.
An air bed is a good choice for 3 season camping for an adult.
Cots
Cots require a larger tent, and don't pack down as small as other sleeping pads.  The legs can poke holes in the tent floor.  And the surface is hard, you really need a pad on top of a cot.  And you need a bigger and taller tent to put a cot into.
Winter Camping
Most heat is lost at night to the ground.  Sleeping bags compress where you lay  on them, so there is less effective insulation.  The above pads will give some insulation, and there are a few tricks:
Space Blanket
A space blanket (not the thin rescue blanket) will reflect heat back up to you and add a bit of insulation.  Alone, its not much, but every little bit helps.  Its a lightweight, small, inexpensive option.
Newspapers
Pretty much out of favor nowadays, 40 years ago scouts would use 3 or 4 newspapers to add a bit of insulation between themselves and the ground.